Nabi 2 (NABI2-NV7A) KIDS ANDROID TABLET
As the world's first full-featured Android tablet made especially for kids, the Nabi 2 delivers a wide range of experiences to engage, entertain and educate kids including kiddified Web browsing, watching movies and TV shows, reading books, learning math, and playing games. Because nabi is a true tablet, it grows with kids over time rather than being discarded like toy tablets. It's also full-featured enough for parents – with the tap of a button and a password, parents can enter Mommy Mode for full Web and app store access. Utilizing the Nvidia Tegra 3 Quadcore processor and Ice Cream Sandwich 4.0 Operating system, the nabi is very fast. Enjoy movies and read e-books on the 1024x600 resolution screen. Kids have access to a full curriculum from Pre-K through 6th grade to learn and parents can track their growth. Synchronize with your home computer or laptop easily with the nabi synch application. 2G of free nabi-cloud for storage.Includes: USB Cable, Quick Start Guide, AC Power Adapter.
7" Capacitive Multi-Touch Display
1024 x 600 Native Resolution
1.3 GHz NVIDIA Tegra 3 Mobile Quad-Core
Android 4.0 Ice Cream Sandwich OS
1GB of RAM, 8GB of Storage, 2GB Cloud
802.11b/g/n Wi-Fi, Bluetooth 3.0+HS
Expandable up to 32GB via MicroSD Slot
Mini-HDMI Port, Micro-USB 2.0 Port
2-Megapixel Front Camera
Red Drop-Safe Bumper
The nabi 2 tablet works with Fooz Kids University, an integrated learning system that combines tenacious practice, mastery of core fundamentals, incremental feedback, and rewards. There's 802.11b/g/n Wi-Fi wireless connectivity for connecting to the Internet in order to download software updates, sync via nabi Sync, retrieve files via nabi Cloud, and more. There's a micro-USB 2.0 port if you wish to connect to a computer as well as a mini-HDMI port for when you want to output video to a larger display.
Spinlets+ Music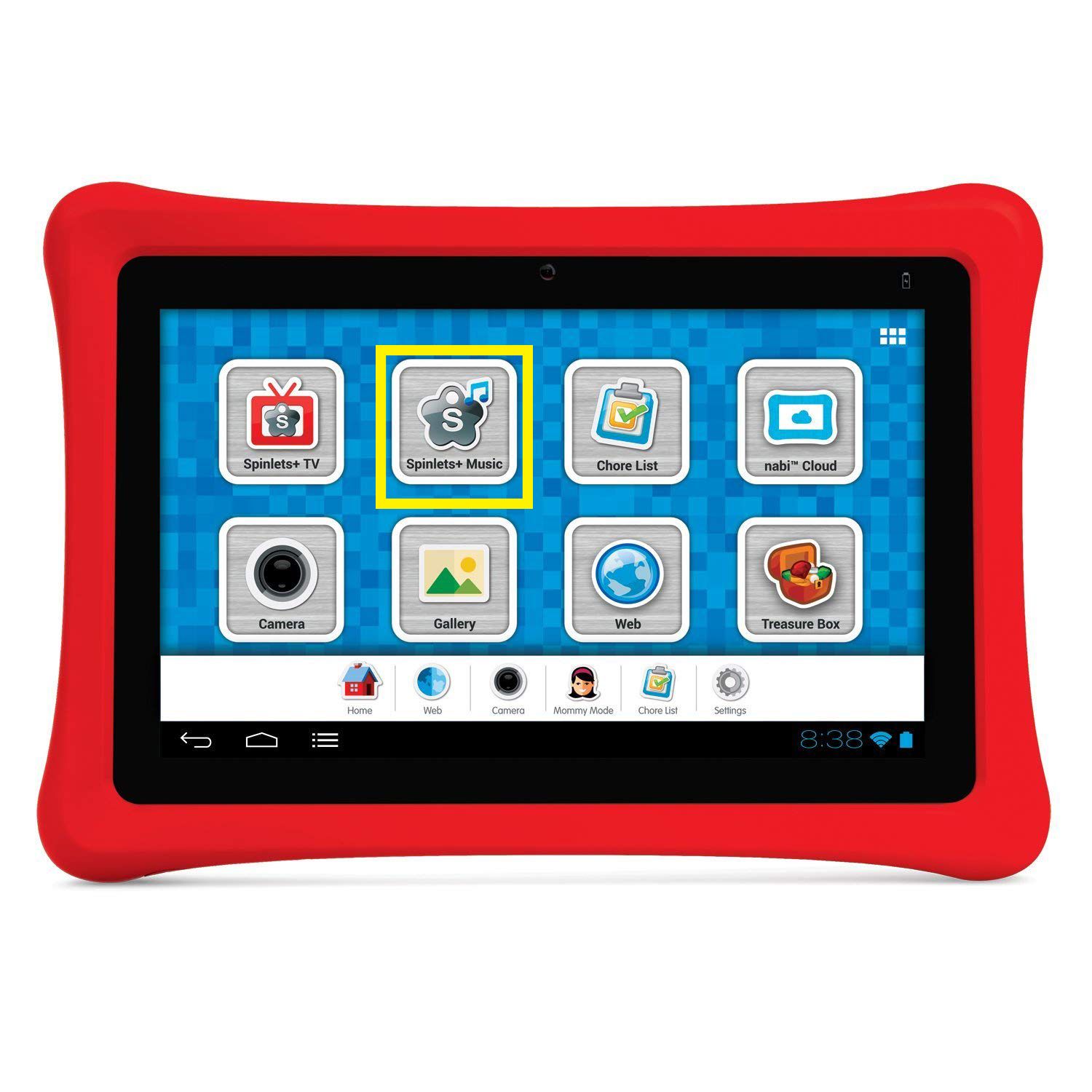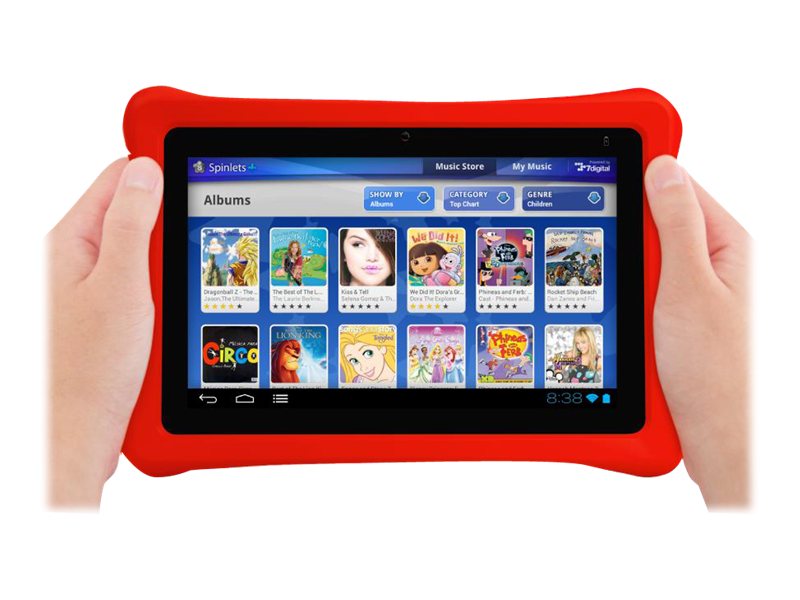 With over 9,000 kid-friendly albums of the songs they know and love as well as over 19 million tracks from all genres for you, Spinlets+ Music is the most comprehensive music solution that is safe for kids and fun for you. Feel free to let your kids browse the music store for kids and then enter the password-protected music store for yourself
Spinlets+ TV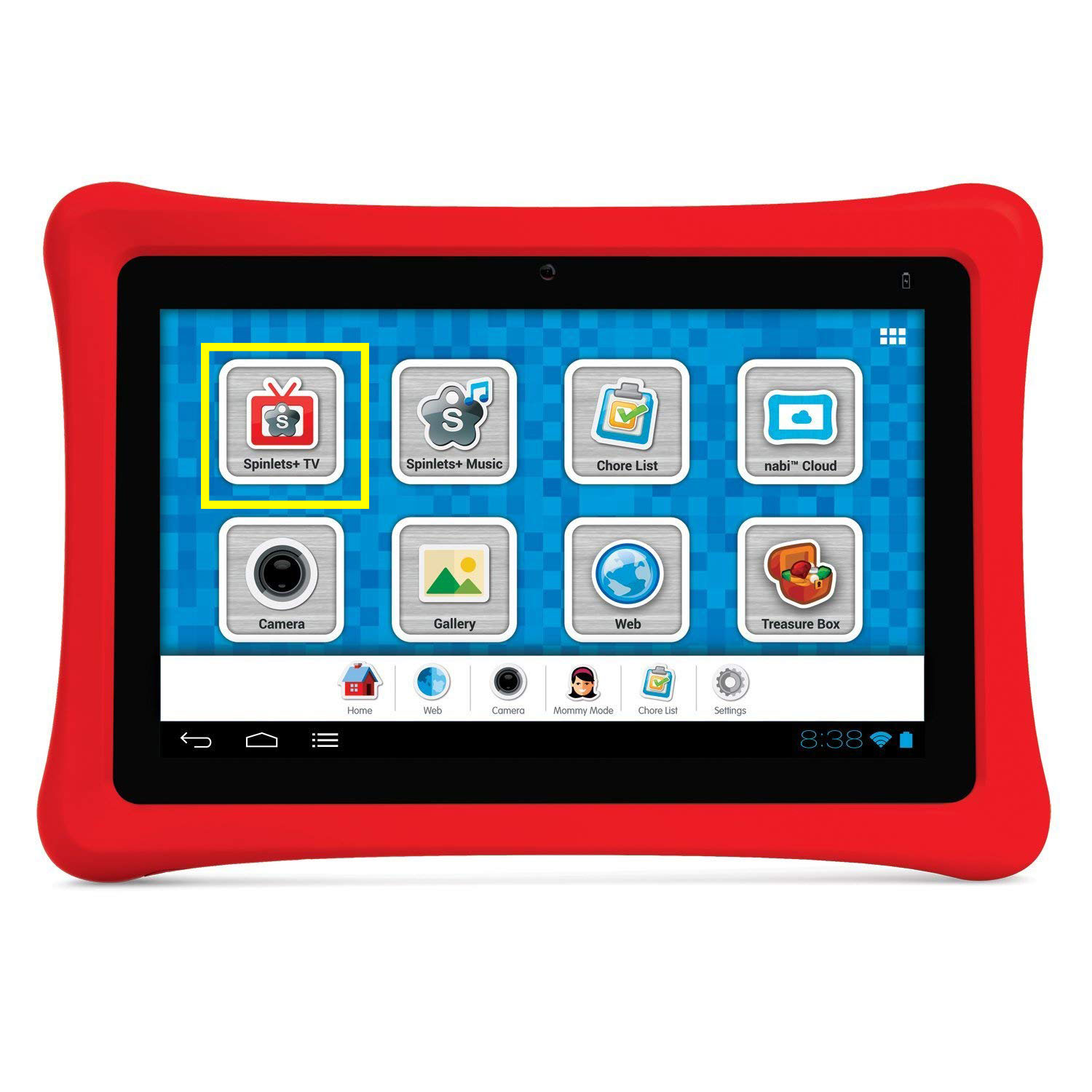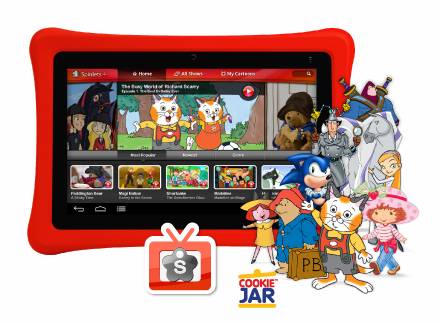 Spinlets+ TV delivers the best of Cookie Jar shows with over 700 hours of kid-safe entertainment, featuring: "Strawberry Shortcake," "Paddington Bear," "Sonic the Hedgehog," "The Busy World of Richard Scarry," "Madeline" and more for $2.99 a month
App Zone 2.0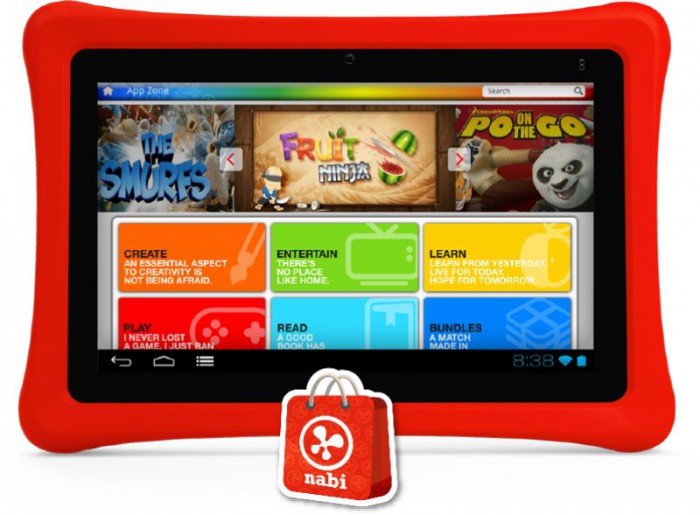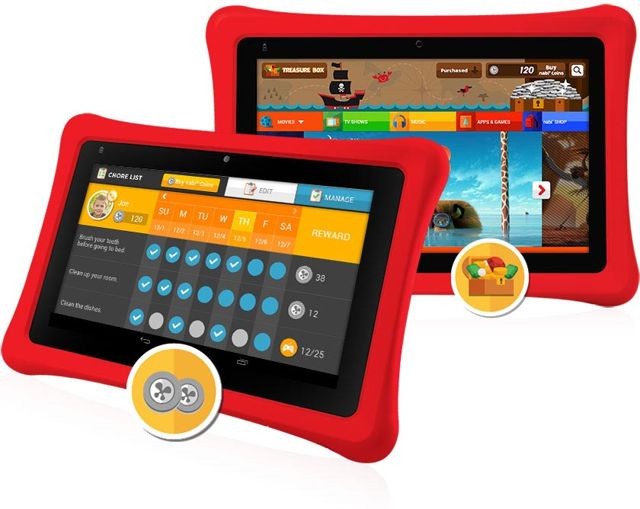 With over 500 mom-selected, kid-approved apps, App Zone 2.0 is the only curated App store made just for kids. App Zone 2.0 is a tried, tested and approved grouping of apps handpicked by a community of moms and dads. Search by Create, Entertain, Learn, Play and Read categories as well as use the guidance filters to find the right app for your kids
nabi Sync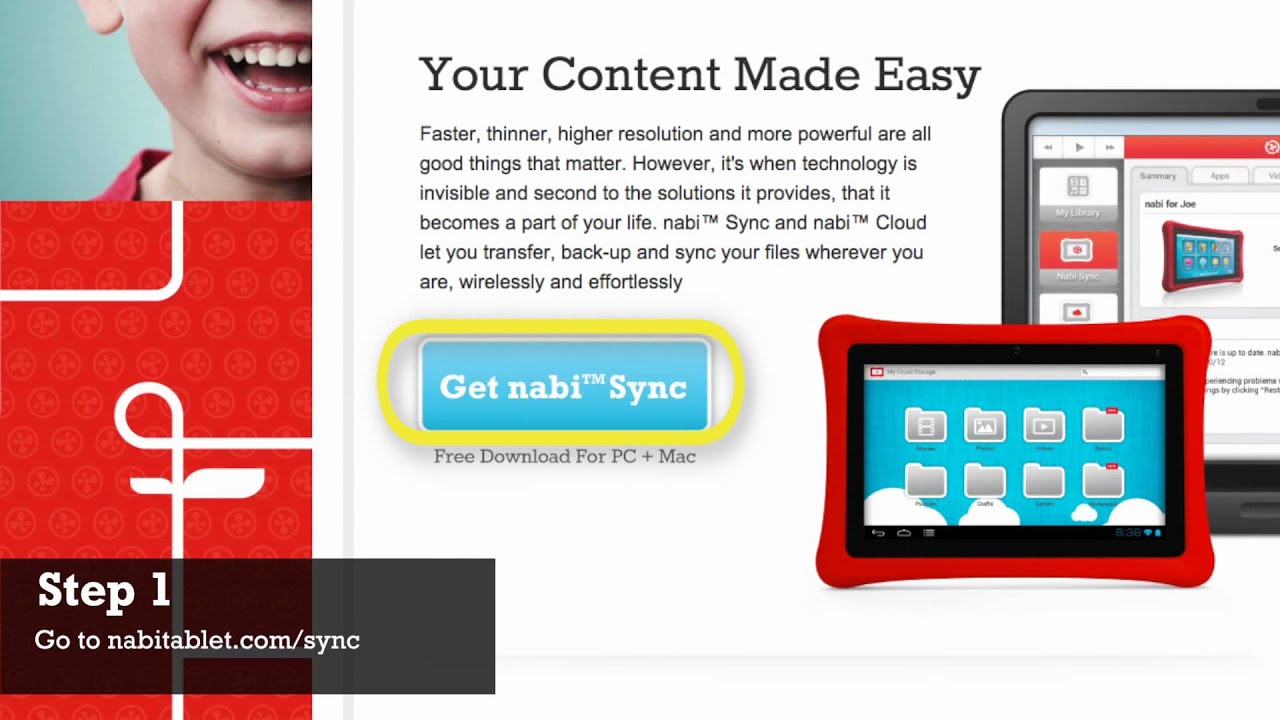 nabi Sync is a PC or Mac application (available for download) that lets you synchronize your photos, music, movies and more to the nabi 2 tablet. Transfer files to and from your nabi 2 tablet wirelessly
Nabi Cloud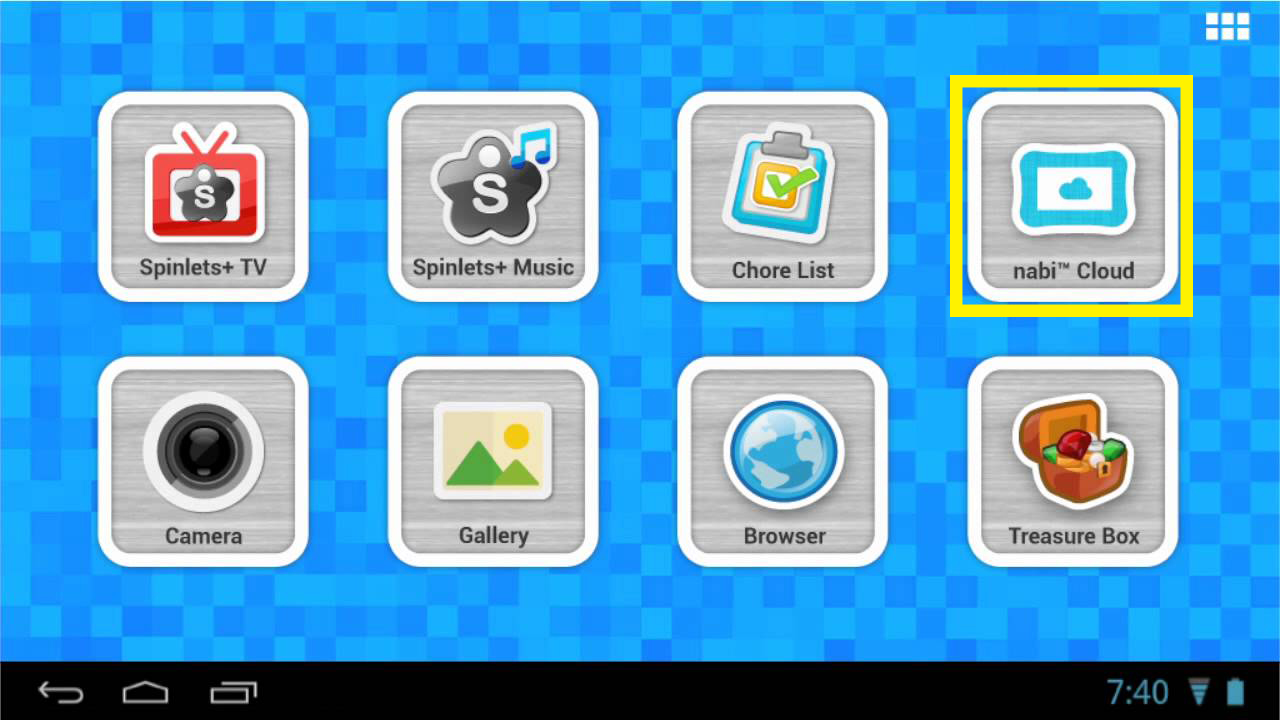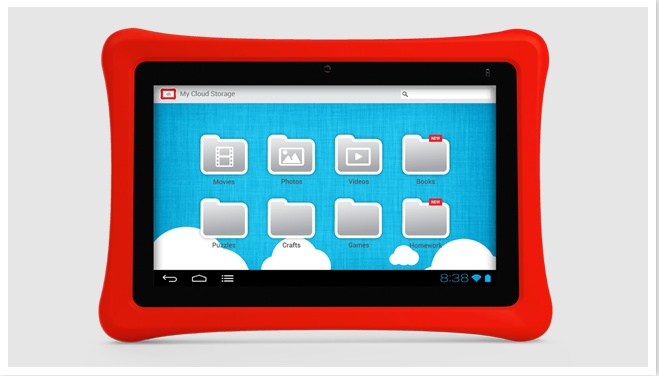 Effortlessly keep your apps, games, music, movies, and photos in nabi Cloud and you'll never have to set up another nabi 2 tablet again. Your settings will automatically sync your content via nabi Cloud. This nabi 2 tablet comes with 2GB of free cloud storage, but you can upgrade up to 50GB if you so choose
nabi OTA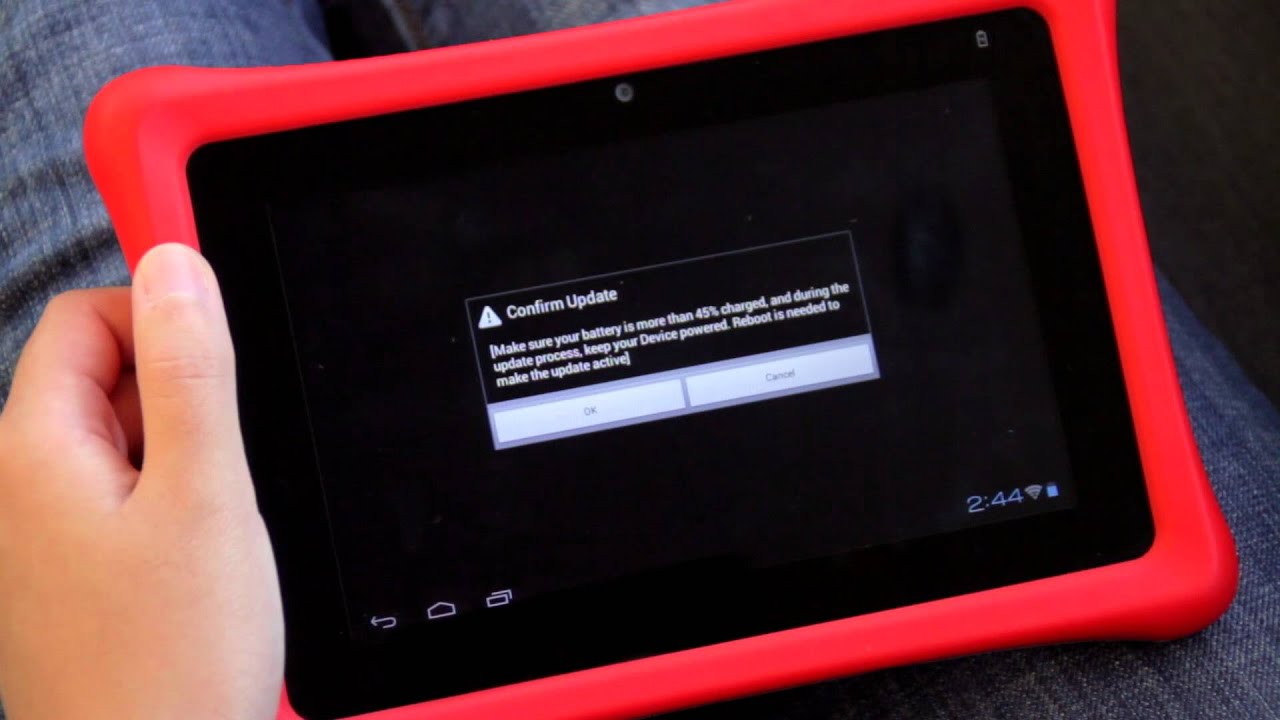 Keep your nabi 2 tablet up-to-date by downloading the latest software and configuration settings over the air (OTA)
nabi MD
nabi MD provides you with immediate answers for troubleshooting problems. Run the diagnostic tool and automatically send a report to nabi. You can quickly access basic information about your tablet, such as battery, CPU, and memory usage. Monitor key functions of your tablet with nabi MD
Operating System Android 4 Ice Cream Sandwich
Memory 1 GB
NVIDIA Tegra 3
CPU 1.3 GHz NVIDIA Quad-Core
GPU NVIDIA Tegra 3
Storage Flash 8 GB
Display Touchscreen Technology Capacitive
Size 7"
Aspect Ratio 17:10
Native Resolution 1024 x 600
Pixel Density 117 ppi
Inputs / Outputs
Ports HDMI - Mini
USB 2.0 - Micro
Audio 1/8" / 3.5 mm Headphone
Integrated Microphone
Flash Media Slot 1 x microSD (Unspecified Type)
Communications
Wi-Fi Wi-Fi 4 (802.11n)
Bluetooth Bluetooth 3.0 + HS
NFC None
Front Camera Resolution 2.0 MP
General
Battery Built-In Lithium-Ion(3850.0 mAh)
Power Requirements AC: 100-240 VAC
Dimensions (W x H x D) 8.6 x 6.0 x 1.1" / 21.8 x 15.2 x 2.8 cm
Weight 1.3 lb / .6 kg
Packaging Info
Package Weight 2.6 lb
Box Dimensions (LxWxH) 10 x 7.2 x 3.3"