Apple iPod touch (5th Generation)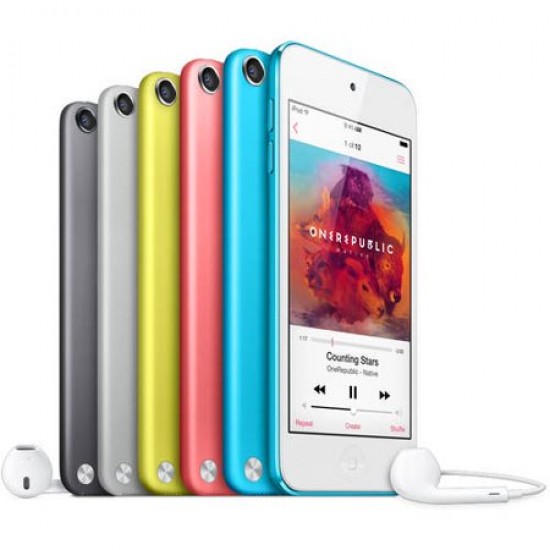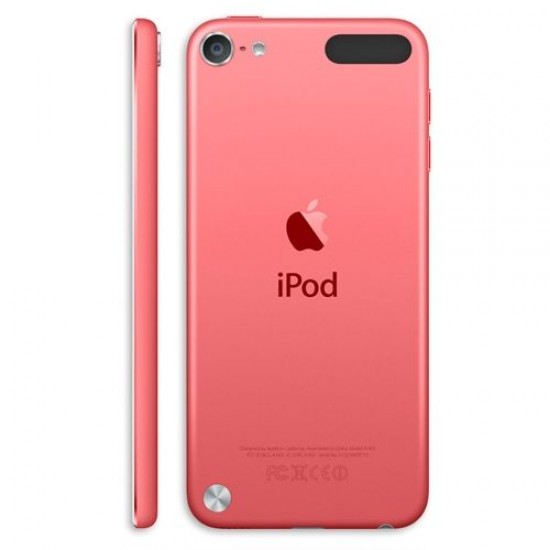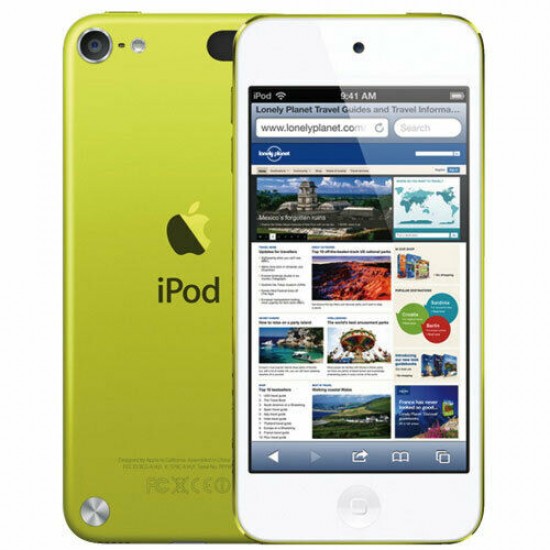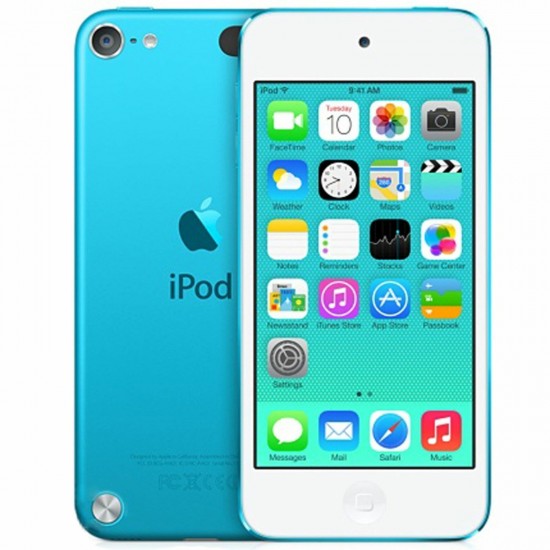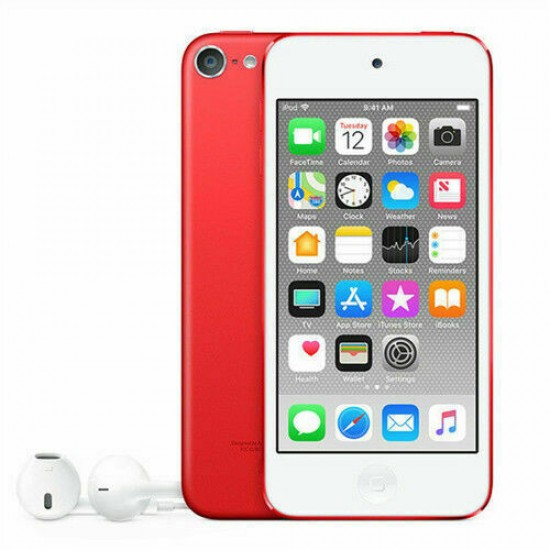 UK used





NOTE: Earphones not Included. This product looks and works like NEW

The Apple iPod touch (5th Generation) from Apple has now reached its 5th generation, offering an incredible iPod touch as a music player, video camera, pocket computer, and portable gaming device all in a single sleek anodized aluminum finish with exceptional battery life. The iPod touch offers a powerful A5 processor. The iPod touch also features the stunning Retina display with a Multi-Touch interface found on the iPhone 5.
The iPod touch has front and rear cameras for taking photos and videos, as well as having live video chats over Wi-Fi with FaceTime. The internal accelerometer and 3-axis gyroscope provide more motion gestures and terrific precision for an amazing gaming experience, which can be combined with the Game Center feature of iOS to play against your friends. The touch also connects to the App Store and iTunes, offers multitasking, allows you to connect to the Internet, check email, and much more.
Please note that some models may come with iOS 7. You will be able to upgrade to iOS 8 for free via the Software Update option in Settings.
Apple iPod Touch 5th Key Features
4" Multi-Touch IPS Retina Display
1136 x 640 Native Resolution at 326 ppi
A5 Processor
Rear 5MP iSight Camera (1080p)
Front 1.2MP FaceTime HD Camera
Apple Maps, Nike+, Siri
Included Apple EarPods
Lightning Dock Connector
iOS 8
Mac and Windows Compatible
Design
Anodized Aluminum
This iPod touch features an anodized aluminum unibody design, similar to the Apple's MacBook line. It's only 0.24" (6.1mm) thin and weighs just 3.1 ounces (88 grams). Aside from the ultraportable design, the anodized aluminum unibody features a supersmooth finish highlighted by its polished beveled edges.
A Wide Variety of Colors
This iPod touch now comes in a variety of colors. You can choose from black, white, pink, yellow and blue. However, don't be fooled. The colors are not just painted on the surface, but they've been anodized right into the aluminum body. What you get is a saturated color that still lets the luster of the metal shine through.
4" Retina Display
The screen of this iPod touch didn't get any wider, just taller. This means you can still operate the iPod touch with just one hand and your thumb gets extra room to navigate through iOS. The display also got more advanced, with finger-friendly, gestured-enabled Multi-Touch technology built right into the glass instead of beneath it. The 4" Retina display has an in-plane switching (IPS) panel that is capable of producing a native resolution of 1136 x 640 at 326 pixels per inch (ppi), an 800:1 contrast ratio, and a 500cd/m² max brightness. The screen also has a fingerprint-resistant oleophobic coating.
iPod touch Loop
The iPod touch loop is a colorful way to keep your iPod touch securely attached to your wrist. You can use it to shoot from a hard-to-reach camera angle, flip your iPod touch up for a quick iMessage or just carry it around pocketless. The loop also keeps your iPod touch safe from a slip, fumble or drop because it's securely connected to your wrist. Please note that the iPod touch loop is sold separately.
Apple EarPods
While the older Apple earbuds have gotten a lot of criticism for not fitting well and having poor sound quality, Apple has reinvented them into the Apple EarPods. The Apple EarPods were designed to fit the ear, not the other way around. It has a front vent, a rear vent, a bass vent and a primary acoustic outlet to provide deeper bass and better audio all around while staying stable in your ears.
Eco-Friendly
Good design doesn't only mean making a stylish product, but also taking into account the environmental impact. That's why the iPod touch from Apple is made from highly recyclable materials, such as aluminum. Also, every iPod touch is free of toxic materials, such as brominated flame retardants (BFRs) and polyvinyl chloride (PVC).
Music
Cover Flow
Turn the iPod touch into landscape mode to reveal Cover Flow. In Cover Flow, you can glide through your music by album art with the flick of your finger. The taller 4" Retina display also gives you more space to maneuver.
Genius Playlists and Mixes
Genius finds complementary songs of your favorite songs and puts them in a Genius playlist for your convenience. You can also let Genius automatically search your library to find songs that go great together and make mixes for you.
iTunes and iCloud
Buy and download new music on your iPod touch over Wi-Fi with the iTunes app. If you have your iPod touch linked to your iCloud account, it will automatically push your just purchased songs to all your other Apple devices, such as your iPad, iPhone, Mac and even PC computers.
Bluetooth and Airplay
Pair your iPod touch to Bluetooth-enabled devices, such as a pair of headphones. You can also stream music from your iPod touch to AirPlay-enabled speakers over Wi-Fi to your home entertainment system via Apple TV or any speaker connected to an AirPort Express.
Camera
Rear iSight Camera
This iPod touch has a rear iSight camera, which has tap to focus, an LED flash and face detection. With the 5-megapixel iSight camera, you'll be taking pictures with seven times the amount of pixels of the previous iPod touch as well as recording video in 1080p, complete with video stabilization.
Front FaceTime HD Camera
This iPod touch also has a front 1.2-megapixel FaceTime HD camera, capable of recording video in 720p. You can also access FaceTime to chat with friends and family in crystal clear HD quality, using the front FaceTime HD camera.
Panorama
With the Panorama function, you'll be able to point, shoot and move the camera across the scene for up to 240 degrees. The gyroscope, A5 chip and sophisticated software work together to create a single seamless shot.
In-App Editing
Crop, rotate, enhance and remove red-eye directly from your iPod touch. You can also edit video as well. Just drag to select start and end points on the filmstrip. For more photo and video editing options, iPhoto and iMovie are available in the Apple App Store (sold separately).
Shared Photo Stream
With Shared Photo Streams in iCloud, you can share your favorite photos with friends and family at a press of a button. You can also post to Facebook or attach it to a tweet right from the Camera app.
Built-in Apps
Siri
This iPod touch has Siri, which lets you use your voice to send messages, schedule meetings, place FaceTime calls and more.
Game Center
Throw down a challenge, go head to head with your friends or make new friends (or foes) from all around the world. Check leaderboards for scores and achievements and share your results on Facebook.
iMessage
Send unlimited text messages over Wi-Fi to another iOS or Mac device. It's free and you can even send photos, videos, locations and contacts. You can even have Siri send a message for you.
App Store
With over 700,000 apps to choose from, you'll be able to find the app for just about anything. The good news is that most apps are also free, but for premium apps, you'll have to pay a fee.
FaceTime
Video chat with friends and family using the front 1.2-megapixel FaceTime HD camera. You can FaceTime with anyone on an iPhone, iPad, iPod touch or a Mac computer over Wi-Fi.
Supported Formats
Audio Playback
Frequency response: 20 Hz to 20,000 Hz

Audio formats supported: AAC (8 to 320 Kbps), Protected AAC (from iTunes Store), HE-AAC, MP3 (8 to 320 Kbps), MP3 VBR, Audible (formats 2, 3, 4, Audible Enhanced Audio, AAX, and AAX+), Apple Lossless, AIFF, and WAV

User-configurable maximum volume limit
TV and Video
AirPlay mirroring and video out to Apple TV (2nd and 3rd generation)

Video mirroring and video out support: Up to 1080p through Lightning Digital AV adapter and Lightning to VGA adapter (adapters sold separately)

H.264 video up to 1080p, 30 frames per second, Main Profile level 4.1 with AAC-LC audio up to 160 Kbps, 48kHz, stereo audio in .m4v, .mp4, and .mov file formats

MPEG-4 video up to 2.5 Mbps, 640 by 480 pixels, 30 frames per second, Simple Profile with AAC-LC audio up to 160 Kbps per channel, 48kHz, stereo audio in .m4v, .mp4, and .mov file formats

Motion JPEG (M-JPEG) up to 35 Mbps, 1280 by 720 pixels, 30 frames per second, audio in ulaw, PCM stereo audio in .avi file format
Apple iPod touch (5th Generation)
Stock:

In Stock

Model:

5th Gen

SKU:

AP520218GB

UPC:

885909609635

MPN:

MD717LL/A

Apple