Nabi Jr 8GB Kids Educational Tablet
Nabi Jr. Multi-Touch 5" Nick Jr. Edition Tablet features an Android 4.1 Jelly Bean operating system and a 5" capacitive multi-touch display with an 800 x 480 native resolution. It's highlighted by an ergonomic, Nick Jr. branded Drop-Safe orange bumper. The tablet is equipped with a quad-core 1.6GHz NVIDIA Tegra 3 mobile processor and 1GB of RAM. Plus, for storing your child's favorite apps and media, the tablet has 16GB of internal storage but can be expanded up to 32GB via the microSD card slot. There is also a two-megapixel camera capable of recording 720p video and can also rotate 180 degrees.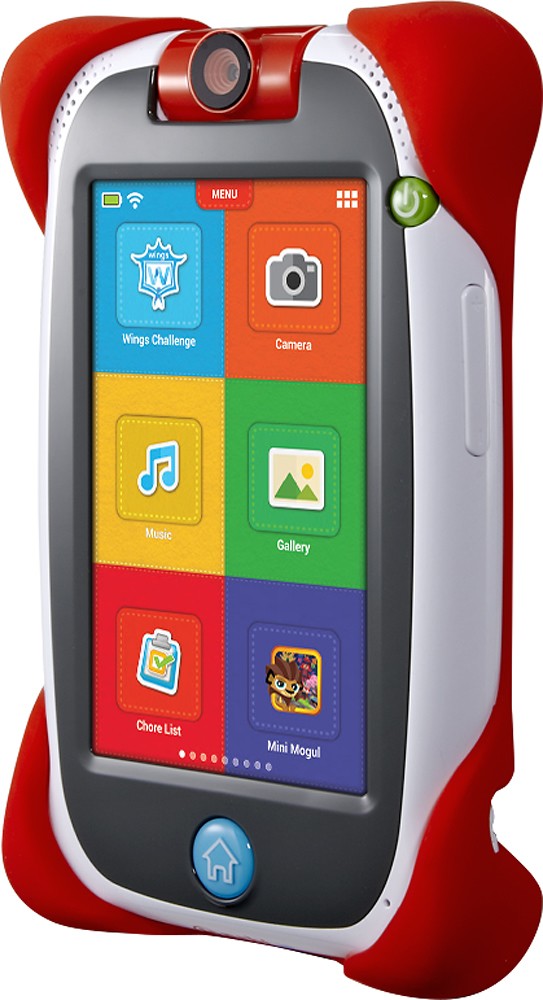 The nabi Jr. tablet has partnered with Nick Jr. on this special edition tablet. With 18 additional games, videos and e-books, kids can interact with their favorite Nick Jr. characters, such as Dora the Explorer, Team Umizoomi, Bubble Guppies, Backyardigans, Wonder Pets, and Ni Hao Kai-lan.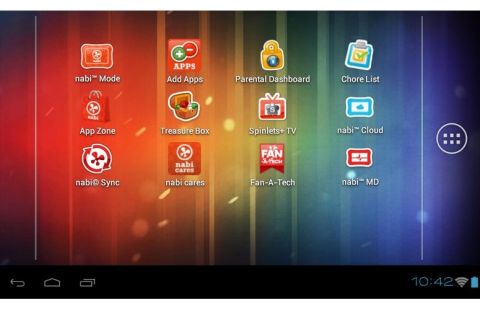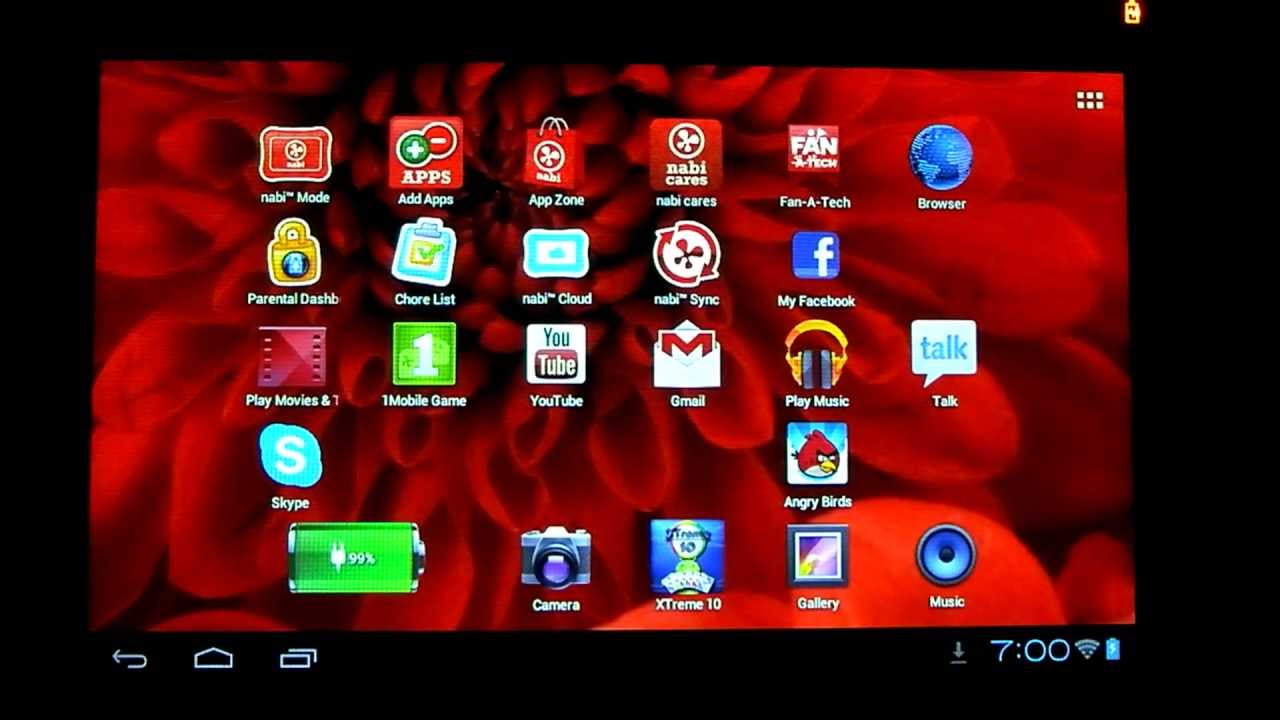 The nabi Jr. tablet works with the Wings Education System, an integrated learning system that combines tenacious practice, mastery of core fundamentals, incremental feedback, and rewards. There's 802.11b/g/n Wi-Fi wireless connectivity for connecting to the Internet in order to download software updates, sync via nabi Sync, retrieve files via nabi Cloud, and more. There's a nabi connector that can connect to your computer via the included nabi connector to USB cable.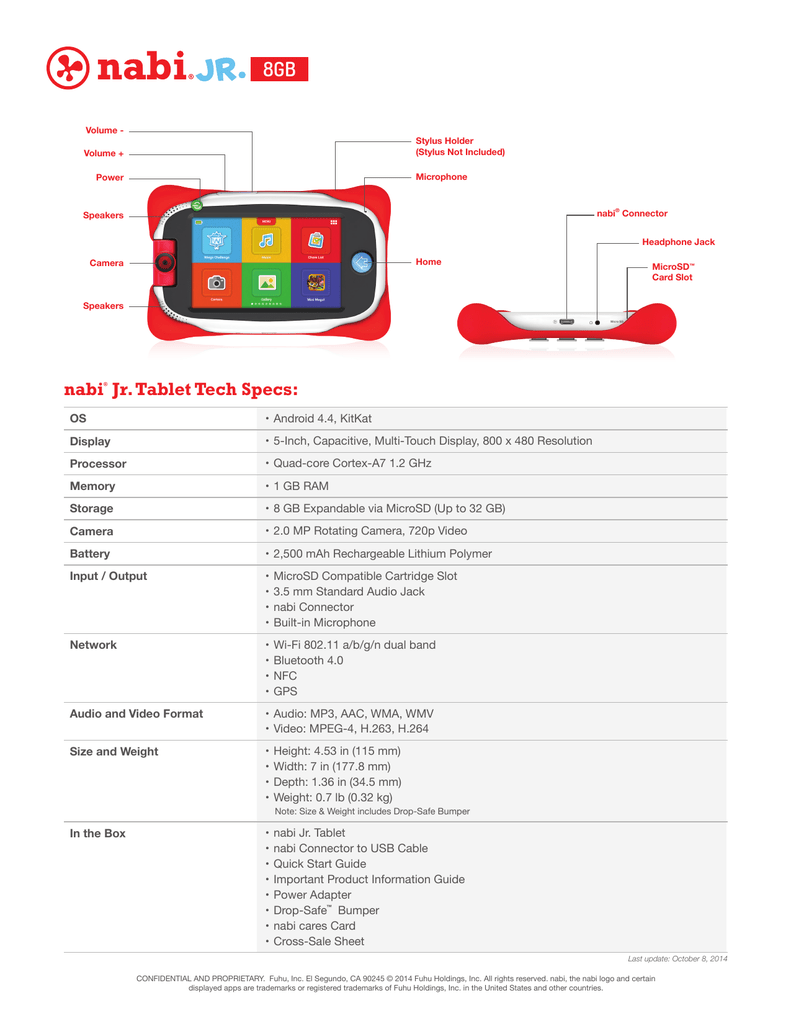 1.6GHz NVIDIA Tegra 3 Quad-Core
1GB of RAM & 16GB of Internal Storage
Up to 32GB MicroSD Card Slot Expansion
5" Capacitive Touchscreen
800 x 480 Native Resolution
802.11b/g/n Wi-Fi, Bluetooth 3.0
2-Megapixel Rotating Camera (720p Video)
Kid-Friendly Design, Parental Controls
Android 4.1 Jelly Bean OS
Content Featuring Nick Jr. Characters
Wings Adaptive Courseware
Engaging and rigorous, Wings Adaptive Courseware has thousands of lessons covering over 1,500 key, core fundamentals in math, reading, and writing
Wings Challenge
Wings Challenges utilizes game thinking and game mechanics to engage kids to solve problems and master skills through a series of achievements, unlocks, maps and collectibles
N-Site Reports
N-Site Reports give you valuable insight on your child's performance, strengths, and trouble spots by grade level, usage, and lessons. It's the first real-time analytics engine that gives you a real insight into your child's proficiency levels and readiness for academic achievement
Nabi Coins and Treasure Box
The nabi Coins and Treasure Box motivates children to complete lessons by rewarding them with nabi Coins that can be utilized in the Treasure Box to buy apps and games
Play, Read, and Watch with Nick Jr.
Dora ABCs Vol 1 - Letters & Letter Sounds
Dora ABCs Vol 1: Letters & Letter Sounds focuses on your child's emerging literacy skills. In this application, your child will learn the Alphabetic Principle, which is to recognize letters, write letters, and associate letters with sounds
Meet Kai-Lan
Say "ni hao" to Nickelodeon's newest star, Kai-lan, in Meet Kai-lan. In this fun story, your child will read about Kai-lan and her friends as they put on a hat parade
Count It Up: Bubble Guppies Stamp Counting
Each Count It Up spot was created specifically to show how math is part of our everyday lives and how solving math problems is fun and rewarding
A Powerful Tool
Full-Featured Tablet
The nabi Jr. features a quad-core 1.6GHz NVIDIA Tegra 3 Cortex-A9 processor and 16GB of internal storage. Plus, you can expand the storage capacity up to 32GB with any microSD or microSDHC media card. The nabi Jr. also has a 5" capacitive touchscreen with an 800 x 480 native resolution
, a 2 mega-pixel 180-degree rotatable camera, integrated stereo speakers, 802.11b/g/n Wi-Fi, Bluetooth 3.0, and a built-in microphone
Side-load Everything
The nabi Jr. will constantly grow with your child because it's based on Google's Android 4.1 Jelly Bean operating system. This means that you can virtually add any Android application or game that you want. Want that book? Want that game? Angry Birds, Netflix, and Skype can all be side-loaded
Powerful Parental Controls
With reliable time controls, secure web filte
r
ing, and app management, the nabi Jr. offers powerful parental controls so your child will have a safe and secure learning experience
180-Degree Flip Camera and Video Recorder
The 2-megapixel camera on the nabi Jr. can rotate 180 degrees for optimal photo-taking and video capturing. The camera is also capable of recording 720p HD video
Durable Design
Suitable for fingers covered in peanut butter and jelly, the nabi Jr. will handle those bumps and drops with its red drop safe bumper
Over 30 Built-in Apps and Games
With over 30 built-in apps and games, your child will enjoy the nabi Jr. the minute they open it. From snapping photos, watching movies, and listening to music, the nabi Jr. can help develop your child's creativity. Pre-loaded with over 30 apps dedicated to reading, puzzles, counting, matching, and first words, the nabi Jr. provides a rewarding educational experience for your child
Supported Formats
Audio: MP3, AAC, WMA, WMV
Video: MPEG-4, H.263, H.264